21 participants (social workers, teachers, training coordinators) from 7 organisations attended a+b=3′ five day workshop on financial education. The aim of this highly interactive training the trainers was to empower participants to facilitate a financial education programme to their clients, who include very low income families living in and around Phnom Penh and underprivileged youth coming from other Cambodian areas and studying in Phnom Penh. The training is hosted and co-organised by Enfants du Mekong.
First day: discovering what financial education is about, the challenges to teach it and what impact being financially literate can make for individuals and their families and communities.
Second day: how can we teach topics such as "spending more wisely", "saving a little every month", "getting out of debt", "planning" to clients who have very little money and only plan one day at a time?
Third day: practice makes perfect: participants work in small groups to adapt examples of training activities designed by a+b=3 and facilitate them in front of the others.
Fourth day: how can promote financial education workshops and measure their impact?
Fifth day: wrap up and brainstorming on how to implement financial education programme in each organisation… and a nice Cambodian lunch together!
addressing a challenge to money management: gambling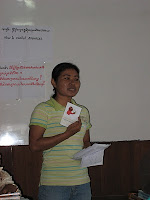 participants practice training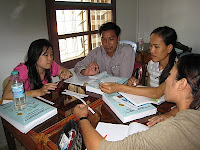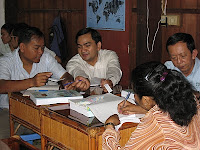 sample sessions: we facilitate a one-hour workshop with Enfants du Mekong Centre students


discussing how to implement a program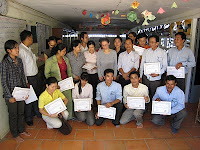 Group photo