Today we welcomed a small group of NGO/microcredit staff to our Training of Trainers on Micro-business. On this first day, we focused on key business skills micro-businesses should get.
We started with running our own shop
which led to a lot of creativity.
And participants realised that running a business… is not easy!
Counting the cash after closing the shop
calculating a profit – simple case with a coconut seller
Book-keeping
Experiencing the importance of tracking incomes, expenses and cash – basket case
In the afternoon, with a simple (and team-based) exercise with chickens and eggs, we realised that profit is not cash.
Breakeven calculation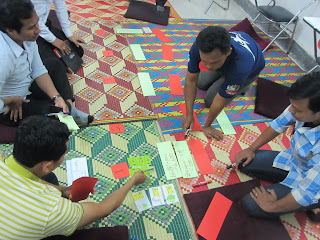 Planning ahead…
…

fostered lots of discussions!
and laughter!
We finished with reflecting on how much a small business owner can pay her/himself … not so easy (and regular) either!
summarising the key learning of our first day