Last weekend (12 and 13 December), Maneth, Business Life Teacher at Passerelles Numeriques Cambodia, ran our second level course for students, a few months after they attended the first level.
a+b=3′ s student programme offers three levels; level 1 focuses on basics (why manage, controlling expenses, planning, saving for goals, ethics) and level 2 looks at decision taking.
Remembering what we have learned in the first workshop
and sharing it with the other students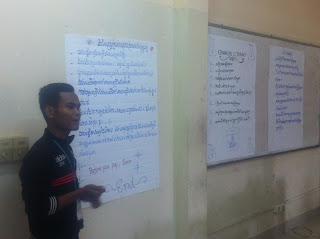 Explaining money management
Identifying the expenses that are hard to manage
and finding practical ways to better manage them – here make up and beauty
buying presents
or phone cards
This second workshop focuses on decision taking: practical case: how to choose a mobile phone
Where to save
Second practical case: anticipating a big expense and writing a budget: we take wedding as an example.
Wedding budget done by the students
On Sunday, Maneth ran the same workshop with a second group of students… who reviewed what they learned in the first workshop
They explained what they remembered.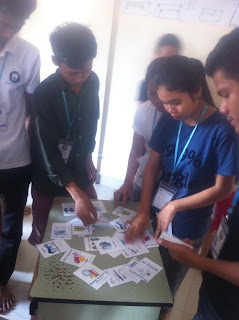 Identifying an expense that is hard to manage.
Where to save
Wedding budget
Well done, Maneth (standing, on the left) and PNC students!