Enfants du Mekong Centre Merieux in Phnom Penh offers a thorough programme on financial education to their students: from year 1 on until they graduate three to four years later, students attend one workshop every six months; besides, they manage their own money and can practise in real life what they have learned – and get ready to manage a salary and support their families once they graduate.
sketch on money management acted by students –
a fun way to review what we have learned in the previous workshops.
The audience enjoys the play!
second sketch
Managing a project
How to take better decisions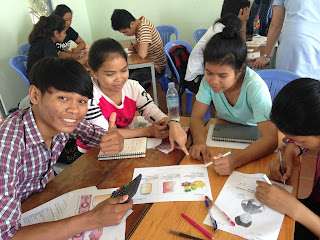 Helping our families: making sure their microbusiness is profitable