A beautiful and meaningful example of the cascading effect a+b=3 is trying to nurture: Catalina attended Enrich (our Hong Kong partner) programme and graduated last February. Right away, her first thought was to teach others and empower them to manage their money.
Introduced by Enrich's Managing Director, Lenlen, Catalina looked at a+b=3's programmes available online and thought they were relevant to the groups she was planning to reach.
In July during her annual leave, taking from her time and money, and supported by volunteers and a few friends, she organised several workshops back in the Philippines for youth (in Pangasinan, Baguio and Zambales).
The young participants ranging from 9 to … 23 years old enjoyed the very participatory workshops.
It's just a start and the next steps are for participants to implement what they have learned, and for Catalina to reach more students. Needs are tremendous to help youth nurture a sound relationship with money and avoid taking their parents for ATMs.
Thank you, Catalina, and kudos!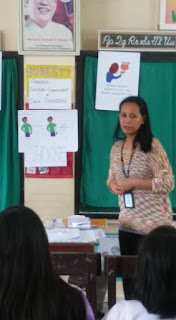 a confident Catalina facilitating the youth programme