Last week, Chhin (Enfants du Mekong, Phnom Penh, Centre Merieux) facilitated the year 2 workshop to two groups of students. Students in year 2 have more expenses to manage and deepening their financial skills is very important for them to fit in their allowance.
Students started with reviewing what they had learned last year. They then worked on their budget – which encouraged passionate discussions among students on how to reduce expenses. Finally students learned to be organised by sequencing the steps of a project.
Well done Chhin for facilitating two workshops in a row and inspiring students to plan and control their expenses.
review of key concepts
budget puzzle
getting organised
Afternoon group:
review
budget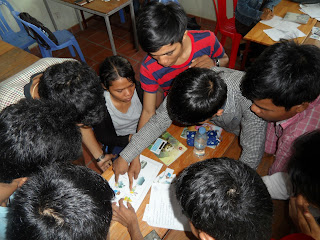 passionate discussion about expenses